Pharmacy Technician Career
What is a pharmacy technician career like?
Pharmacy technicians are white collar healthcare workers who earn a middle class income. The US bureau of labor statistics state that the rate of job growth for pharmacy technicians is 20% higher than the average for all careers. Pharmacy techs need a moderate amount of on the job training and only need a high school education to qualify.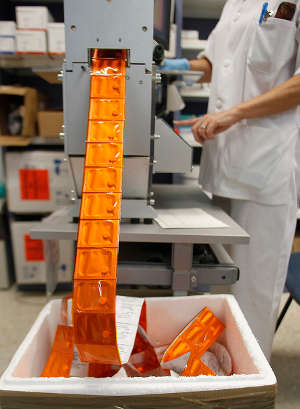 Pharmacy Technician Job Description
Hospital & Compounding Lab Pharmacy Technician Careers


Pharmacy technicians who work in a compounding lab are required to have good math skills because they have to calculate how to make the pharmaceutical compounds. Also, meticulousness and the ability to follow protocol are important. Following protocol and documenting what you did is necessary to ensure that the medications compounded meet quality control standards. Hospital pharmacy technicians require the same job skills as compounding lab techs but also need to be able to work in a team, stock and deliver medications in a timely manner. Computer skills and being able to interface with technologies such as drug dispensing robotic systems are a must.

Retail Pharmacy Technician Career


Pharmacy Techs working in a drug store are required to have good customer service skills. Computer skills are also necessary for retail pharmacy technicians because they need to do data entry for all new prescriptions. Finally, being able to work in a fast-paced career is a must.

Nuclear Pharmacy Technician Career


Pharmacy Technicians working in a nuclear pharmacy are required to have the same job skills as those working in a compounding lab. However, nuclear pharmacy technicians are the cream of the crop. They have to be better at math than pharmacy techs working in a compounding lab or hospital. Also, nuclear pharmacy technicians have to be able to do everything that compounding lab pharmacy techs but faster. This is to limit the exposure to radation at a safe level.